HAUSTAGE Charity Sales
HAUSTAGE the first select shop in Asia for the sustainable fashion and lifestyle brands. A various contemporary collection of exquisitely designed and sustainably made fashion and lifestyle products from all around the world is curated in HAUSTAGE to visualize the concept of heritage, arts, upcycling and sustainability in the city.
.HAUSTAGE is organizing "HAP & CRAFT" & "BONNE" Charity Sales online and in-store* from 1st to 31st August, 2020. Playright as the exclusive beneficiary will enjoy the 10% donation of each sales for designated brand and services from HAUSTAGE to support our daily operations and our work to children.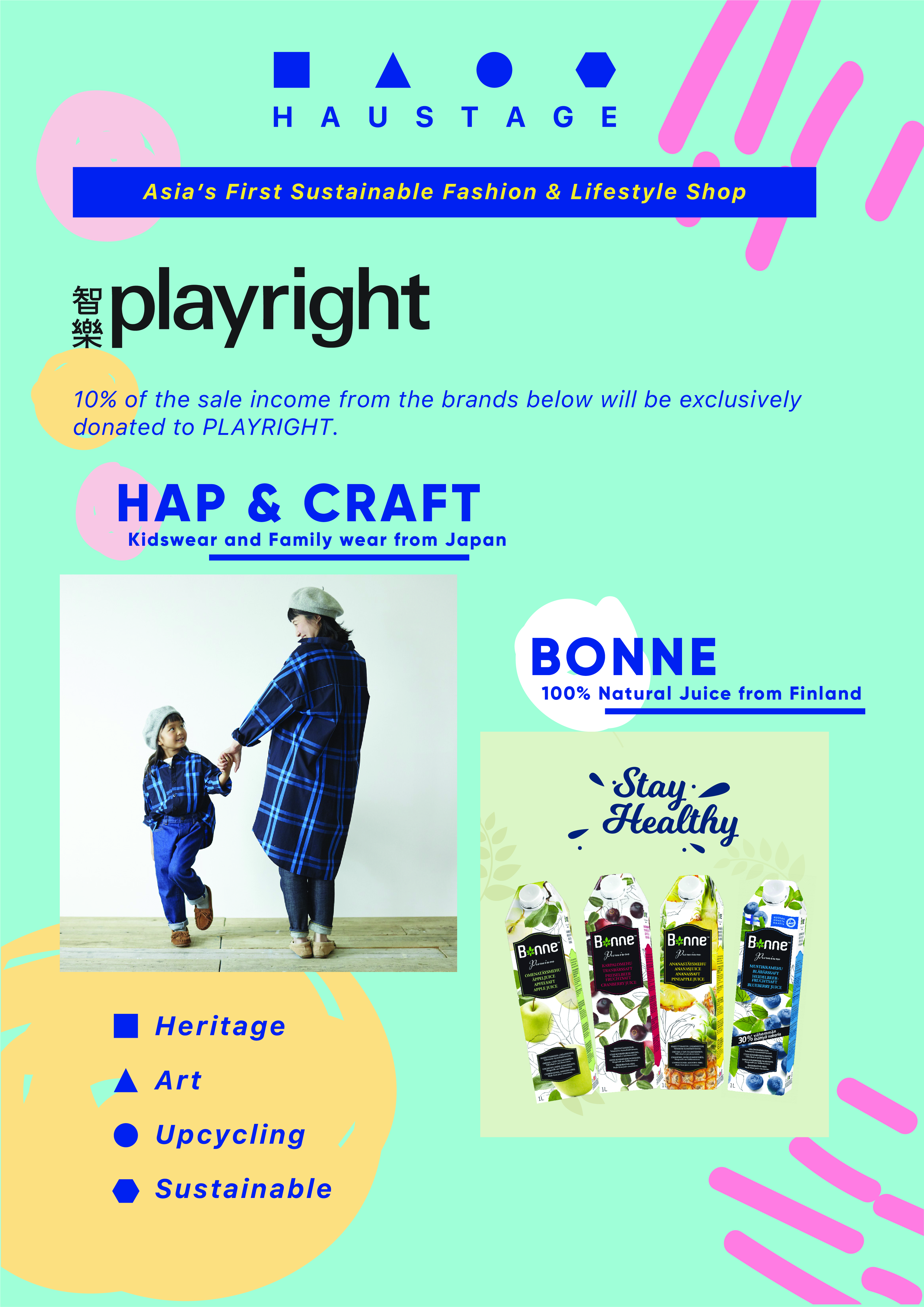 Shop and Donate, Make a Good Day!
HAUSTAGE Tsuen Wan
112A, The Mills, 45 Pak Tin Par Street, Tsuen Wan, N.T., Hong Kong
HAUSTAGE Tsim Sha Tsui
123 & 123A, Level 1, K11 MUSEA, Victoria Dockside, 18 Salisbury Road, Tsim Sha Tsui, Hong Kong
HAUSTAGE Central
H103, PMQ, 35 Aberdeen Street, Central, Hong Kong
Japanese kidswear and family wear HAP & CRAFT
Note: Terms and conditions apply. Images are for reference only. In case of any disputes, the decision of MATCH SHOWROOM and HAUSTAGE shall be final.
Your donation and support mean everything to us!




For any suggestions, please contact our Fundraising Team.