Unite Together for Supporting Children's Play, Supporting Playright in the COVID-19 Pandemic!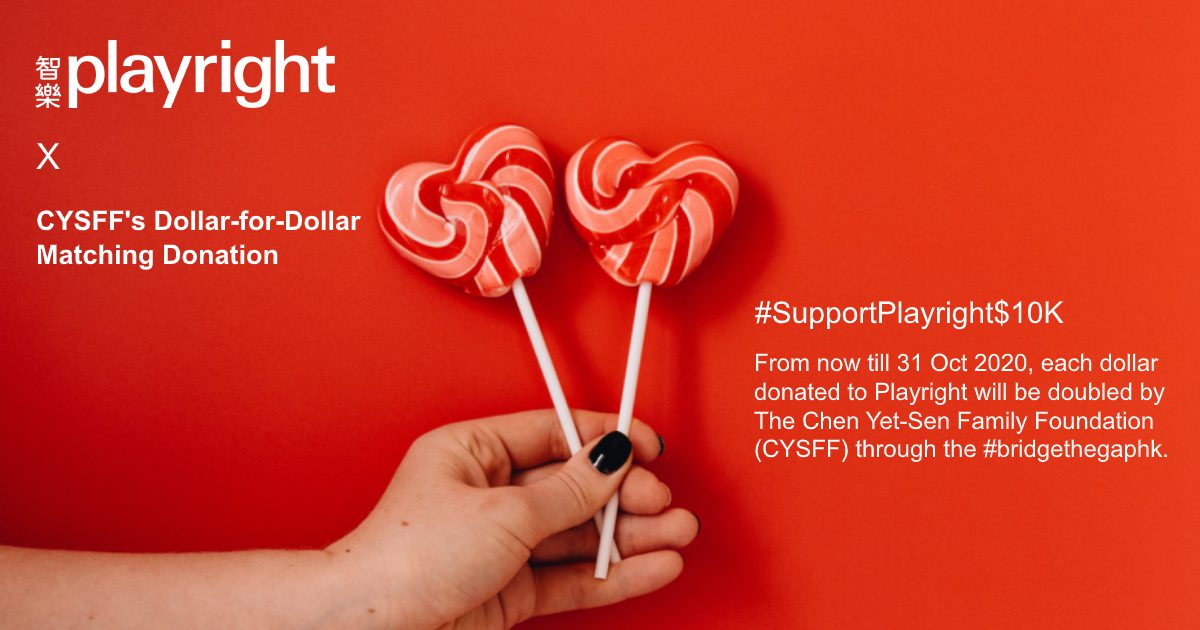 (Photo by alleksana from Pexels)
During the COVID-19 pandemic, Playright's services have been seriously affected and even suspended.
Facing the unprecedented challenges to our services and work, we are still working very hard through our professionalism, knowledge and skills to provide children and families in Hong Kong with appropriate and fun-filled play experiences. Playright's Home Play Video Series, Home Play Boxes, Hospital Play Channel and Hospital Play Packs are a few examples of our newly created services under the COVID-19 outbreak.
Playright Cherishes Each Dollar from You!
From now till 31 Oct 2020, each dollar donated to Playright will be doubled by The Chen Yet-Sen Family Foundation (CYSFF) through the #bridgethegaphk.
If you believe in our work and support our value, vision and mission of children's play, please consider some financial support from your HK$10,000 government cash handout to bring children a joyful and meaningful everyday experience, especially at the critical times during the COVID-19 pandemic.
Other Donation Methods
(1)  Online Banking Transfer to HSBC 004-559-051347-002
(2) FPS to HSBC ID: 2358331
Please complete the e-donation form and submit the notification record of the online payment/payment via FPS with donor's full name and contact number to [email protected] by e-mail. Please also state #SupportPlayright$10K #bridgethegaphk as the remark in e-mail.
Notes of Donation
The Playright Children's Play Association is a registered charity in Hong Kong. Your donation will be used to support Playright's services. The donation of HK$100 or above is tax deductible. A donation receipt will be given to you once the donation payment and the online payment notification record are received.
Your personal information will be treated as strictly confidential and used for communications purpose only.  For enquiries, please contact our staff member via email to [email protected]
Your donation and support mean everything to us!




For any suggestions, please contact our Fundraising Team.